Creating Adventure Games On Your Computer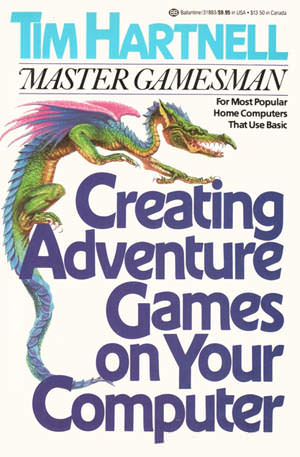 Auteur : Tim HARTNELL
Edition Ballantine Copyright 1984
ISBN : 0-34531883-8
Prix public : $9.95
If you enjoy playing or programming BASIC computer games, you're ready for the book of games that takes you into the fifth dimension.
Enter the magical world of computer adventure games, armed with the wisdom and guidance of master gamesman Tim HARTNELL and the book that teaches you how to :
Construct adventure worlds and maps
Create computerized labyrinths, magic spells, ogres, daring heroes, and evil villains.
Keep track of players' movements
Design battles with hideous monsters... and much, much more!
CREATING ADVENTURE GAMES ON YOUR COMPUTER contains four full-scale ready-to-run adventure games :
- Werewolves And Wanderers
- The Aftermath Of The Asimovian Disaster
- The Citadel Of Pershu
- Chateau Galliard (The Ancient Chateau)
Les listings saisis présents dans notre BDD :
| | |
| --- | --- |
| Article créé le : | Samedi 15 Juillet 2017 à 14 h 17 |
| Dernière mise à jour le : | Dimanche 16 Juillet 2017 à 17 h 15 |